These Colors
Taste Like Music
"I REMEMBER THE FUTURE, YET I LOOK FORWARD TO THE PAST" 66 X 204in (167.64 x 518.16cm) Oil, enamel, wax on linen
"Everything I want to say, I put into my work.
The rest is just chit chat.
Robert Santoré is an internationally collected contemporary artist, painter, sculptor & photographer with studio practices in Manhattan, New York and at his Texas Art Ranch in Montgomery, Texas.
Santoré is best known for his series of large format, word paintings, abstract figures, heavily influence as a boomer generation painter, the colors, music, fashion and advertising of the 1960s & 70s he was exposed to as a child. His "neo-postwar abstract expressionist paintings", a practice he began in 1986. He started introducing words and numbers into his early and notable abstract paintings, such as "Famous" (1986), "Baby Linen" (1987) "Bull Market" (1988) and "JunkBond" (1989) thus reinstating content.
His use of defined or extant symbols differentiated his paintings from the gestural abstraction of the Abstract Expressionists, (however he including this method of painting) whose paintings were often understood as expressive of the individual personality or psychology of the artist. Because Santoré has imported well-known motifs into his works, his paintings can be read as both representational (a factories, figures, aircraft) and as abstract patterns.
Curators and collector's characterize his choice of subjects as freeing him from decisions about composition. Santoré has remarked: "What's interesting to me is developing an interconnected visual language and exploring common element across various narratives and composition . It's not all mine, or, that the visual language I repete are "is the mind already knows and challenges the viewer to relearn what they recognize."
Robert has had the great fortune of meeting many other celebrated artists starting with Andy Warhol, Keith Haring and Jean Michel Basquiat while still a student at Parsons. Others artists he has admired and met are Jim Dine, Ed Ruscha, Ed Moses, Robert Longo, Billy Al Bengston, Larry Bell, Craig Kauffman, Chuck Close, Julian Schnabel, Eric Fischl et al.
GALLERY SHOWS/GROUP SHOWS 2023
Sep 12 to Sep 14 2023: "PBS Art Show" Pershing Square Building
Los Angeles, California
Sep 9 to Sep 24 2023: "Anything Goes" California Heritage Museum
Santa Monica, California
Sep 1 to Oct 1 2023 : "Timeless" Robert Santoré solo show
Firetti Contemporary, Dubai
May 6 to July 7 2023 : "ROOTS & REFLECTIONS A Journey Through Time & Nature" group show
Firetti Contemporary, Dubai
GALLERY SHOWS/GROUP SHOWS 2024
Q2 2024 : "I Remember The Future, Yet I Look Forward To The Past"
Stockholm, Sweden
Q2 2024 : "Robert Santoré Veintiséis Habitaciones Donde Estos Colores Saben a Música" ("Twenty-six Rooms Where These Colors Taste Like Music")
Mexico City, Mexico
Q3 2024 : "Robert Santoré I Remember The Future, Yet I Look Forward To The Past"
New York, New York & Los Angeles, California

IMAGES : (1) Robert Santoré Tavarua, Fiji (2) Robert Santoré Los Angeles Studio 1984 (3) Robert Longo & Robert Santoré Manhattan, New York, 2019 (4) Robert Santoré Grand Tetons, Wyoming 2019 (5) Bisa Butler & Robert Santoré New York, New York 2020 (6) Robert Santoré in the Texas studio 2020 (7) Jerry Saltz & Robert Santoré Soho 2022 (8) Robert Santoré at the Dia Beacon in Beacon, New York 2017 (9) Robert Santorés FITS AND STARTS in Steel at the Texas Art Ranch (10) Arlene Shechet & Robert Santoré PACE New York 2012 (11) Jerry Saltz & Robert Santoré Soho 2022 (12) Robert Santoré in the Texas studio 2018 (13) Robert Santoré in the Texas studio 2021 (14) Robert Santoré installing "What Tommy Saw" in Manhattan, New York 202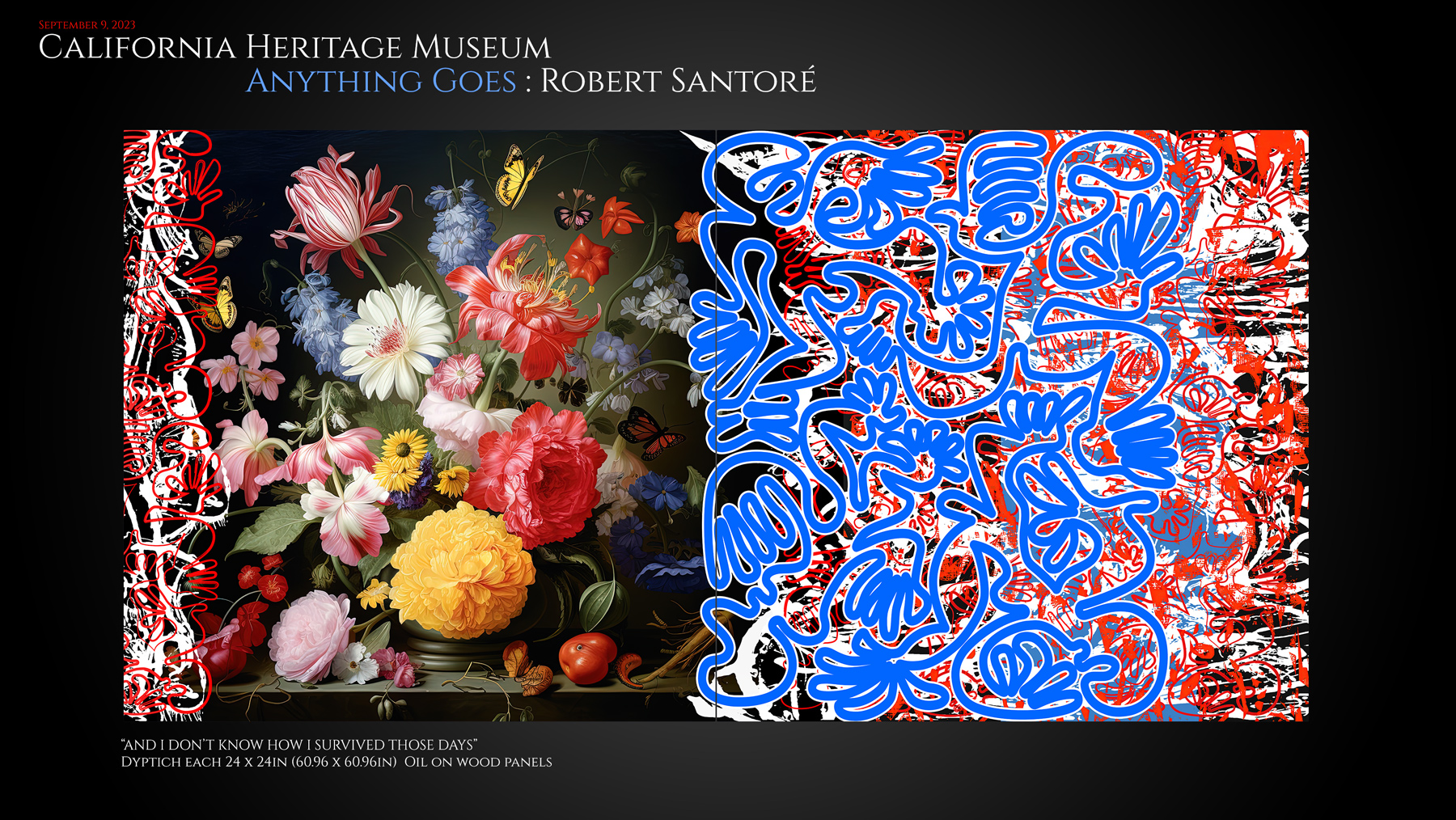 New Work: I Remember The Future, Yet I look Forward To The Past
Robert Santoré's latest artistic endeavor, "I Remember The Future, Yet I Look Forward To The Past," unveils a mesmerizing fusion of his recent series, Opera and Kava Dancers, while skillfully incorporating elements of surrealism and abstraction. Santoré's masterful ability to seamlessly blend diverse artistic styles and concepts results in a body of work that challenges traditional perceptions of time, memory, and anticipation.
In this captivating series, Santoré intertwines the ethereal beauty of opera with the rhythmic energy of Kava Dancers, creating a visual symphony that resonates with the viewer's senses. Through his vivid brushwork and vibrant color palette, he breathes life into each canvas, capturing fleeting moments suspended between reality and dreamscape. The fluid movements of the dancers merge with the haunting melodies of opera, transcending the confines of the present and transporting viewers to a realm where time knows no boundaries.
Santoré's incorporation of surrealism and abstraction infuses the series with an enigmatic allure. Symbolic motifs emerge, blending familiar images with unfamiliar landscapes, inviting the audience to question the nature of memory and its connection to future aspirations.
The juxtaposition of surreal elements against abstract backgrounds evokes a sense of paradox, where the past and the future converge in a single, transcendent moment. Santoré's deliberate blend of these artistic styles invites viewers to embark on a deeply introspective journey, exploring the intricacies of time, memory, and the intricate tapestry of human emotions.
"I Remember The Future, Yet I Look Forward To The Past" represents Robert Santoré's relentless artistic exploration and evolution. With this series, he presents a captivating visual narrative that speaks to the profound complexities of the human experience, enticing viewers to reflect on their own perceptions of time, memory, and the boundless possibilities that lie ahead. Santoré's ability to merge disparate artistic elements into a cohesive whole showcases his extraordinary talent and cements his place as a visionary artist pushing the boundaries of contemporary art.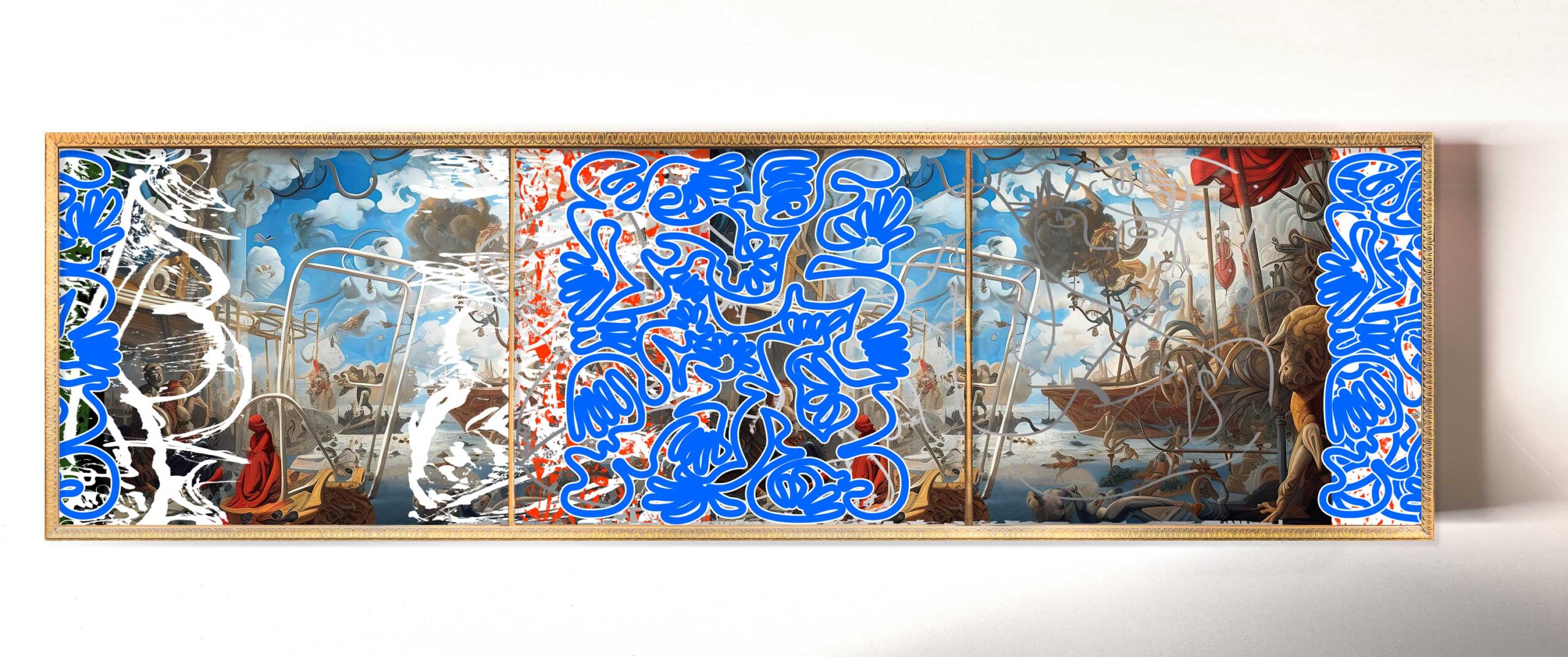 Study for
"QUAESTIONES PRO HUMANITATE" (
Questions For Humanities
)
31 X 10.5 (78.74 x 26.67cm) Oil over gouache & egg tempura, industrial enamel on wood panel with 18ct gold leaf frame. Back (not shown) 18ct gold leaf,
blue jay feathers, green scarab beetle, vintage sugar spoon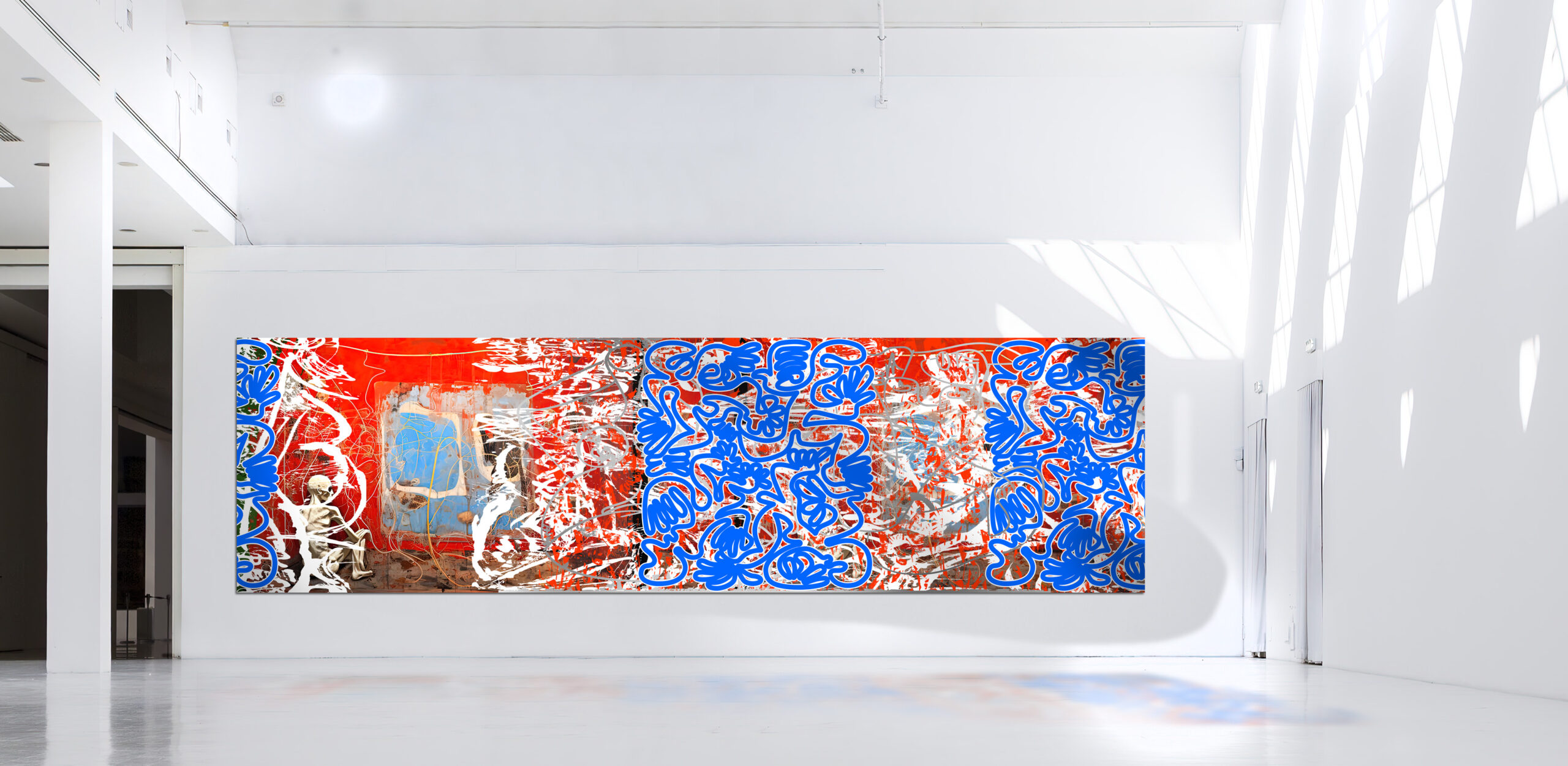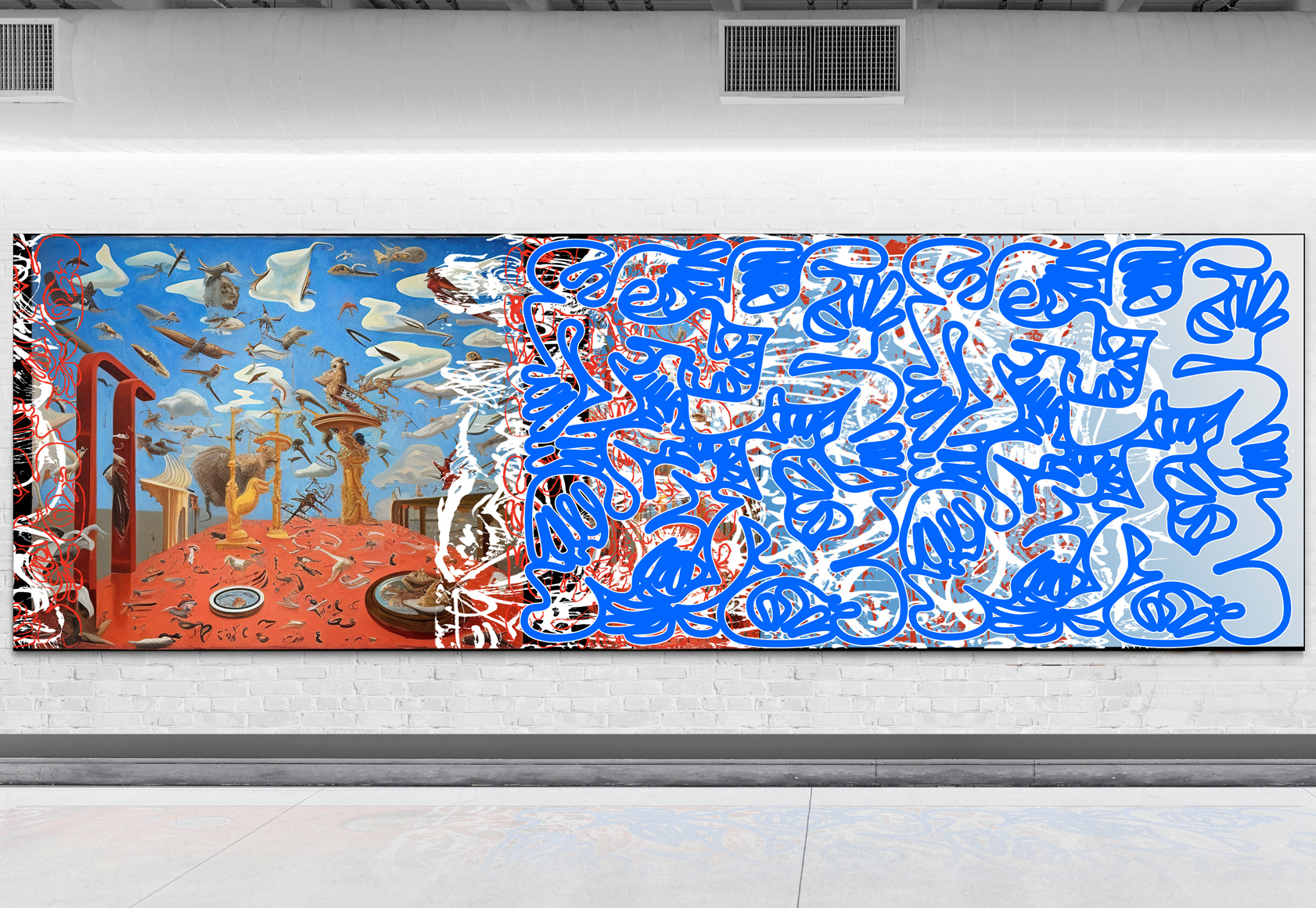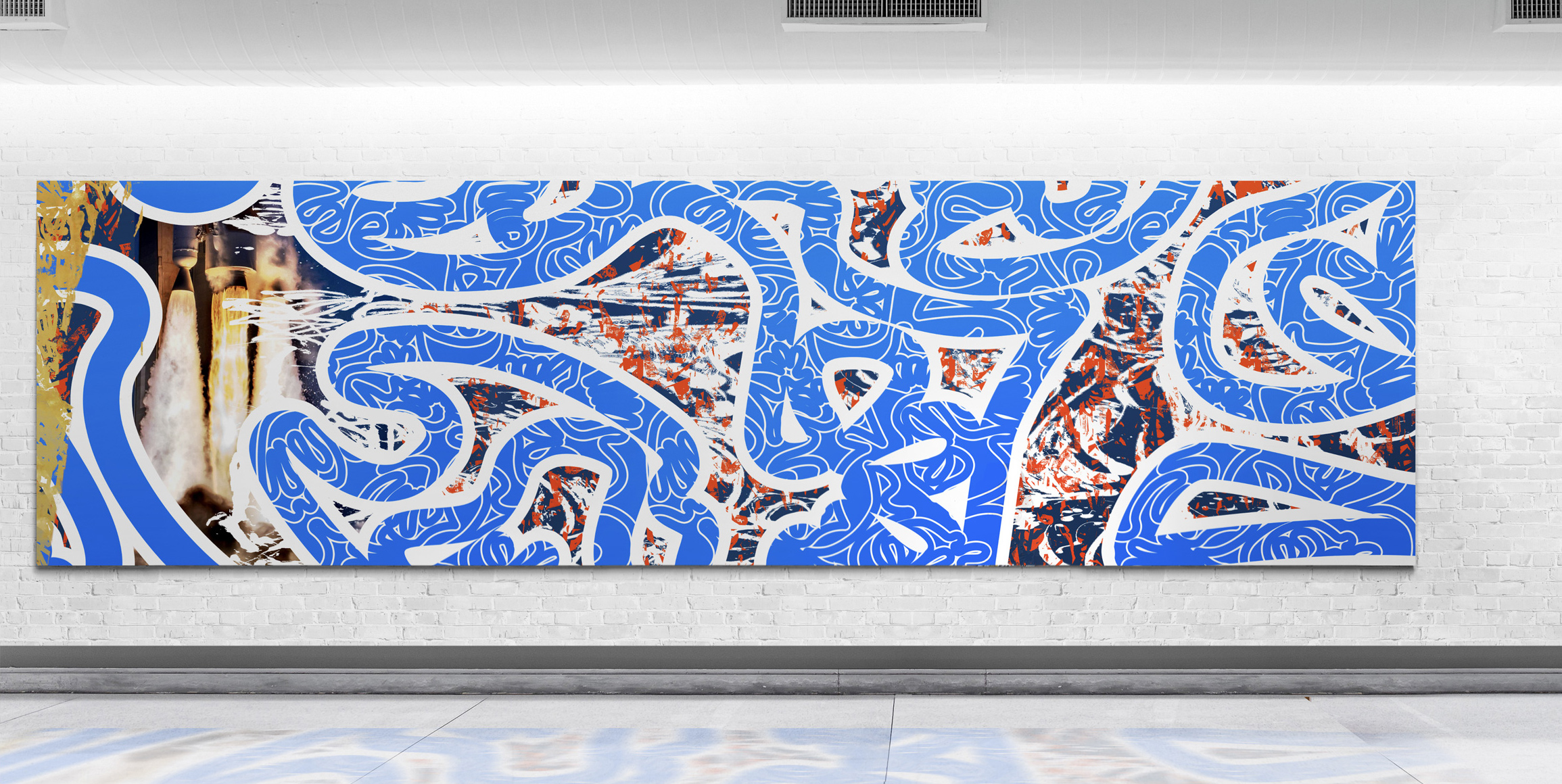 Continuing his series of monumental works "These Colors Taste Like Music: Opera Series" highlighting paintings and works on paper created by Santoré in 2021 and continuing through 2023. 
Santoré introduces to the fore his distinct visual vocabulary of high impact visual gestures, complex colour systems, and allusions which brings into focus the incisive mind at the heart of Santoré's multifarious pursuits through which he has mined a range of cultural, political, art historical, and fantastical subjects.
Using brushwork, light, and balance, Santoré captures moments within his personal history. These works primarily originate from within themselves, oil paint, oil stick, military and industrial enamels on cotton rag mounted to Belgian linen.
These monumental and large scale compositions center on ethereal, gestural figures within the energy of expansive, disparate colour filled urban landscapes.
While some appear more clearly, other figures are defined by lyrical swathes of paint suggesting a face, the outline of a body, intertwined within tidal flows of shoreline currents, the sounds of the city and the inner voice of the artist.
Robert purposefully leaves the origin, gender, and raison d'être of the forms within his paintings up to interpretation, allowing the viewer to step into his world, yet form their own reading of his work. 
The resulting powerful works vibrate with energy, emotion and movement both in nature and media.
Monumental Word Paintings
Words and phrases started at the centre of Robert Santorés work and first appear in his paintings as early as 1987.
The use of words and text in twentieth century art can first be traced back to cubist painters such as Georges Braque and Pablo Picasso who added letters and words, painted and collaged, into still lives.
Playing with language was also central to Dada artists who left an important legacy with their radical, often humorous use of words.
The dadaists as well as the 1960's pop artists, Jasper Johns, Robert Rauschenberg, Warhol, Ed Ruscha and the monumental large scale works by James Rosenquist are all influential inspirations to Santoré and his use of words in an ambiguous and playful way could be seen as an expression of that influence.
Santoré plays with language in his text pieces, using devices such as onomatopoeia (a word that sounds like its meaning), puns, alliteration (a phrase or series of words where the first or second letter is repeated), and contrasting meanings.
Many of his early works such as FAMOUS (1988) depict single words in a strong typographic format or font. A more brooding atmosphere emerges in the later series, HIGH YIELD JUNK BOND (1989), which illustrates the words overlaid with imagery recalling declining Southern California industrial complexes.
"I've made paintings from verbatim with words from lyrics in music or certain sections of books. Of course the words use come from every source. Sometimes they come from a conversation in a podcast and sometimes in one on one conversations, or things see on the street. I've had ideas come to me literally in my sleep, on the subway, or while sitting in the lineup surfing. I tend to lean into these ideas and on blind faith feel obliged to use."
Other works such as FITS & STARTS (2019), FAST FOOD (2021) &  PÃPƏL NUNCIO (2022) reference advertising while setting the text against iconic abstraction of cold war and space race era imagery Santoré witnessed as a child of a military family during the Vietnam War. His keen interest in the Apollo Moon missions as a child resonates as well as his introduction  to renaissance masterworks retooled and germane to current commercial and social media trends.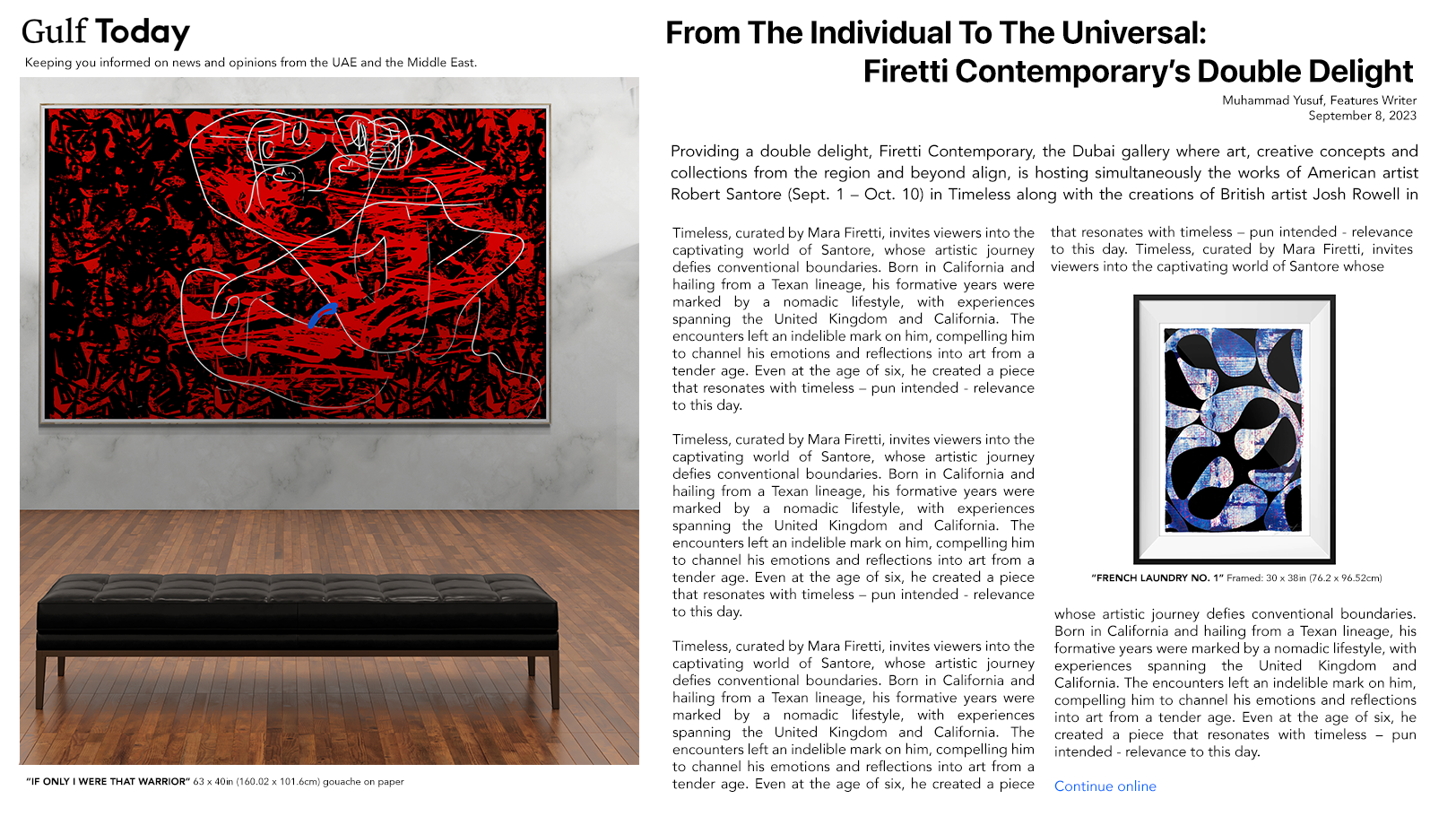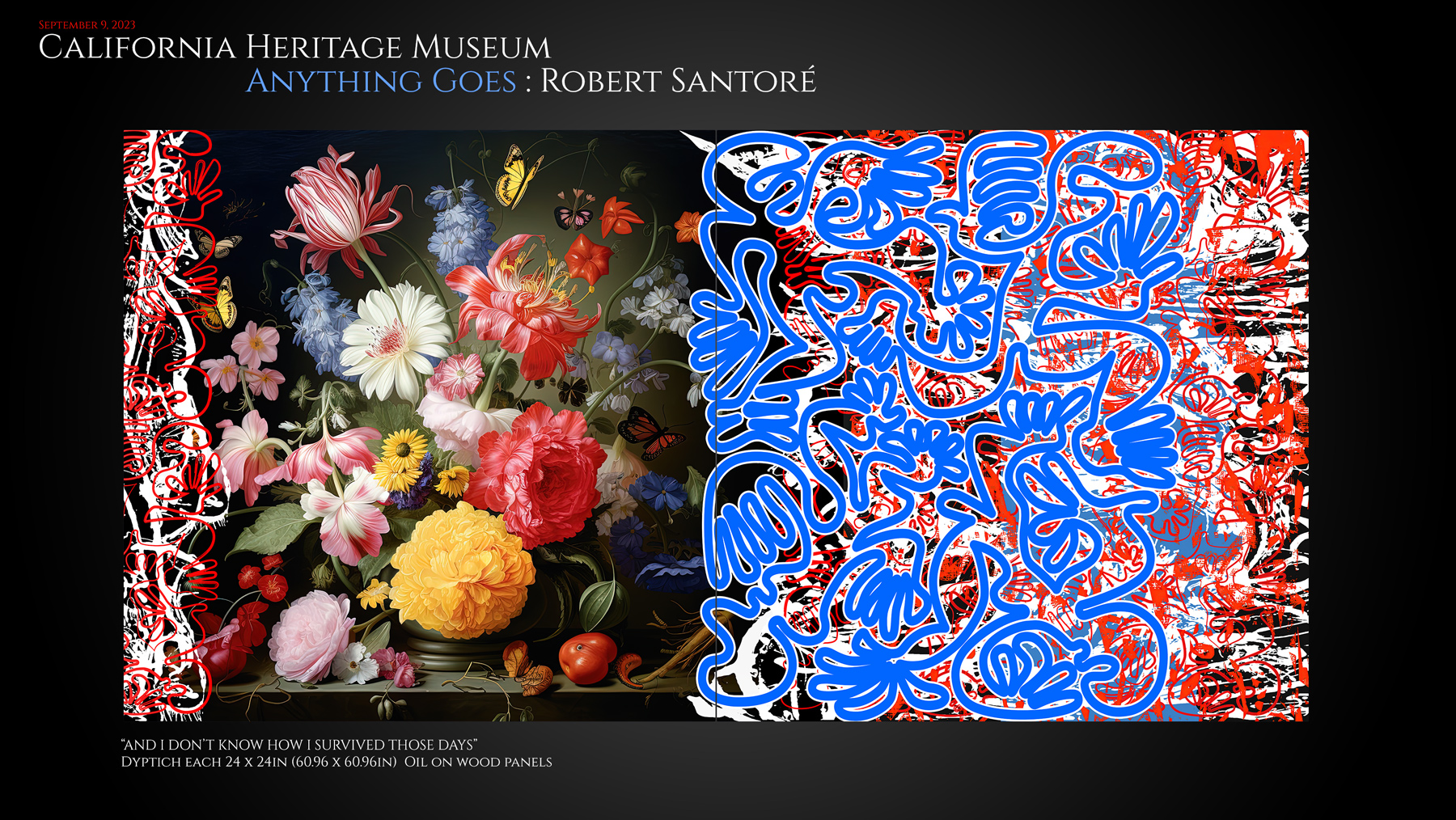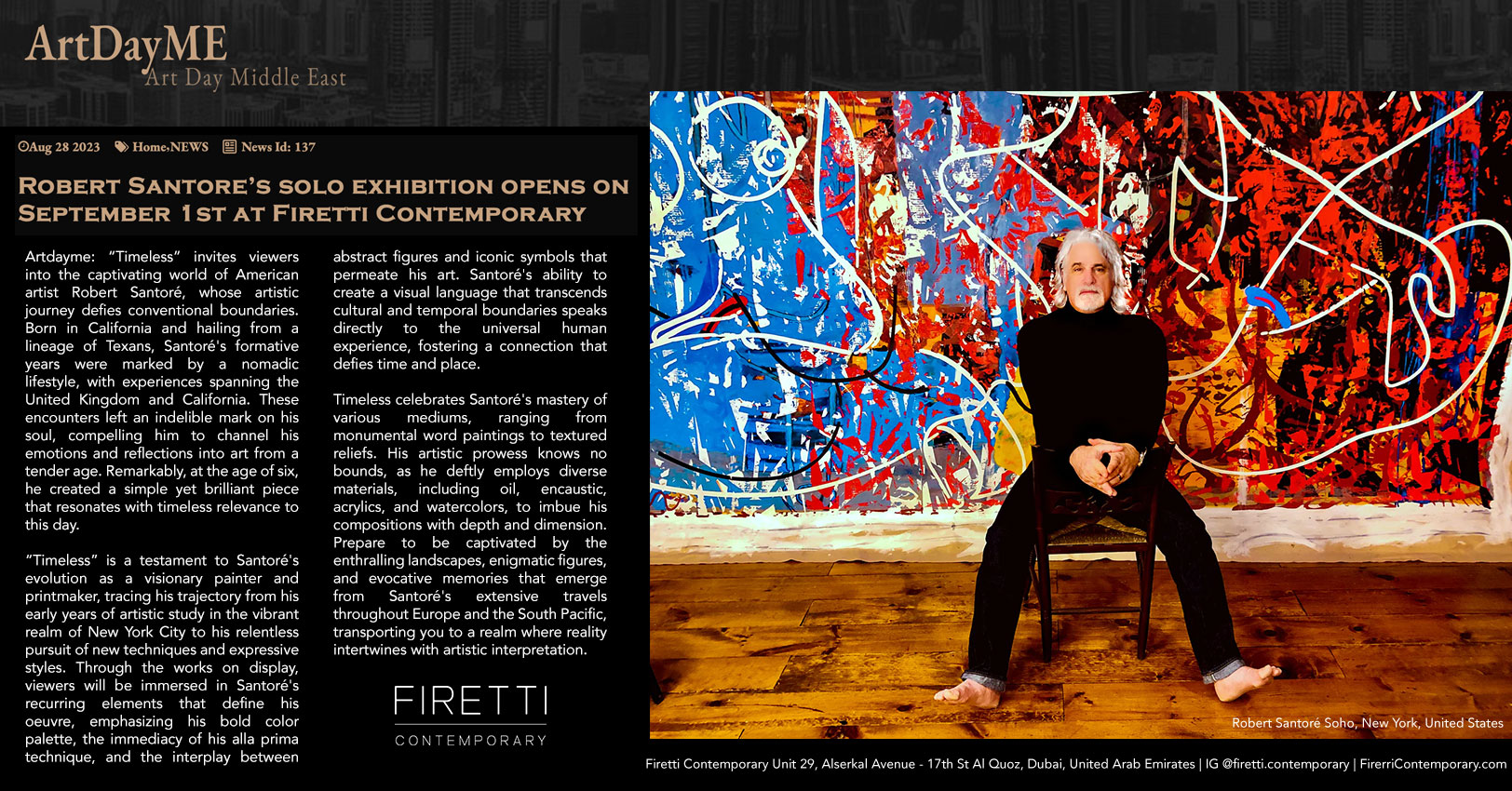 FIRETTI CONTEMPORARY
TIMELESS works by Robert Santoré
Curated by Mara Firetti
Timeless invites viewers into the captivating world of American artist Robert Santoré, whose artistic journey defies conventional boundaries. Born in California and hailing from a lineage of Texans, Santoré's formative years were marked by a nomadic lifestyle, with experiences spanning the United Kingdom and California. These encounters left an indelible mark on his soul, compelling him to channel his emotions and reflections into art from a tender age. Remarkably, at the age of six, he created a simple yet brilliant piece that resonates with timeless relevance to this day. Read More
Firetti Contemporary | Show Information | Contact Firetti | Press Release

DUBIA WEEK
"Journey of Identity"…experiments into "roots" and human nature
Curated by Céline Azem, the Ferretti Gallery of Contemporary Art, Alsergal Avenue, Dubai showcases the works of artists such as Boris Angie, Carson Boga, Gansame Brian Lester, Christine Nayadu, Florence Nandiza, the exhibition "Identity Journey". and Colin Sekajuko, in which they explore the complex and overlapping nature of the human self. Drawing inspiration from the influential theories of Bell Hooks and exploring the importance of the fragmentation of existence and the evolving nature of individuality, the artists express their vision of their own identity, inviting the audience to explore their unique and varied African heritage. Their work highlights important intersections that characterize the existential concept, explaining how different aspects of the self overlap and interact in complex and interdependent ways. Read More
Firetti Contemporary | Show Information | Contact Firetti | Press Release

FIRETTI CONTEMPORARY
ROOTS & REFLECTIONS
A JOURNEY THROUGH TIME AND NATURE
Curated by Mara Firetti
Roots and Reflections: A Journey through Time and Nature is an immersive exhibition that takes viewers on a captivating journey through the works of four contemporary artists from diverse backgrounds. These artists employ various mediums to create works that capture their personal histories, life experiences, cultural roots, and reflections on nature. Read More
Firetti Contemporary | Show Information | Contact Firetti | Press Release
FIRETTI CONTEMPORARY, DUBAI
Friday March 24, 2023: Dubai
Firetti Contemporary Gallery, located in the heart of Dubai, is proud to announce the representation of renowned contemporary artist Robert Santoré. Originally from Texas, Santoré has become a fixture of the New York art scene, where he currently works and resides in the vibrant Soho neighborhood.
Santoré's work is known for its bold and expressive use of color, as well as its thought-provoking subject matter. His unique style draws inspiration from a range of sources, including modernist abstraction, pop art, and street art. He has been featured in numerous exhibitions and galleries across the United States and internationally, and his work has garnered critical acclaim and a dedicated following.
Firetti Contemporary Gallery is thrilled to add Santoré to its roster of artists and to bring his dynamic and powerful work to the Middle East. The gallery is dedicated to showcasing the best contemporary art from around the world, and Santoré's inclusion is a testament to the quality and diversity of the gallery's programming.
"We are honored to represent Robert Santoré and to share his incredible talent with our audience in Dubai and beyond," said Gallery Owner Mara Firetti. "His work is a perfect fit for our gallery's mission of promoting innovative and challenging contemporary art, and we look forward to introducing him to new audiences in the Middle East."
With this new representation, Santoré's work will be featured in an upcoming group show in May and a solo exhibition in the fall of 2023 at Firetti Contemporary Gallery, which is sure to be a must-see event for art lovers in the region.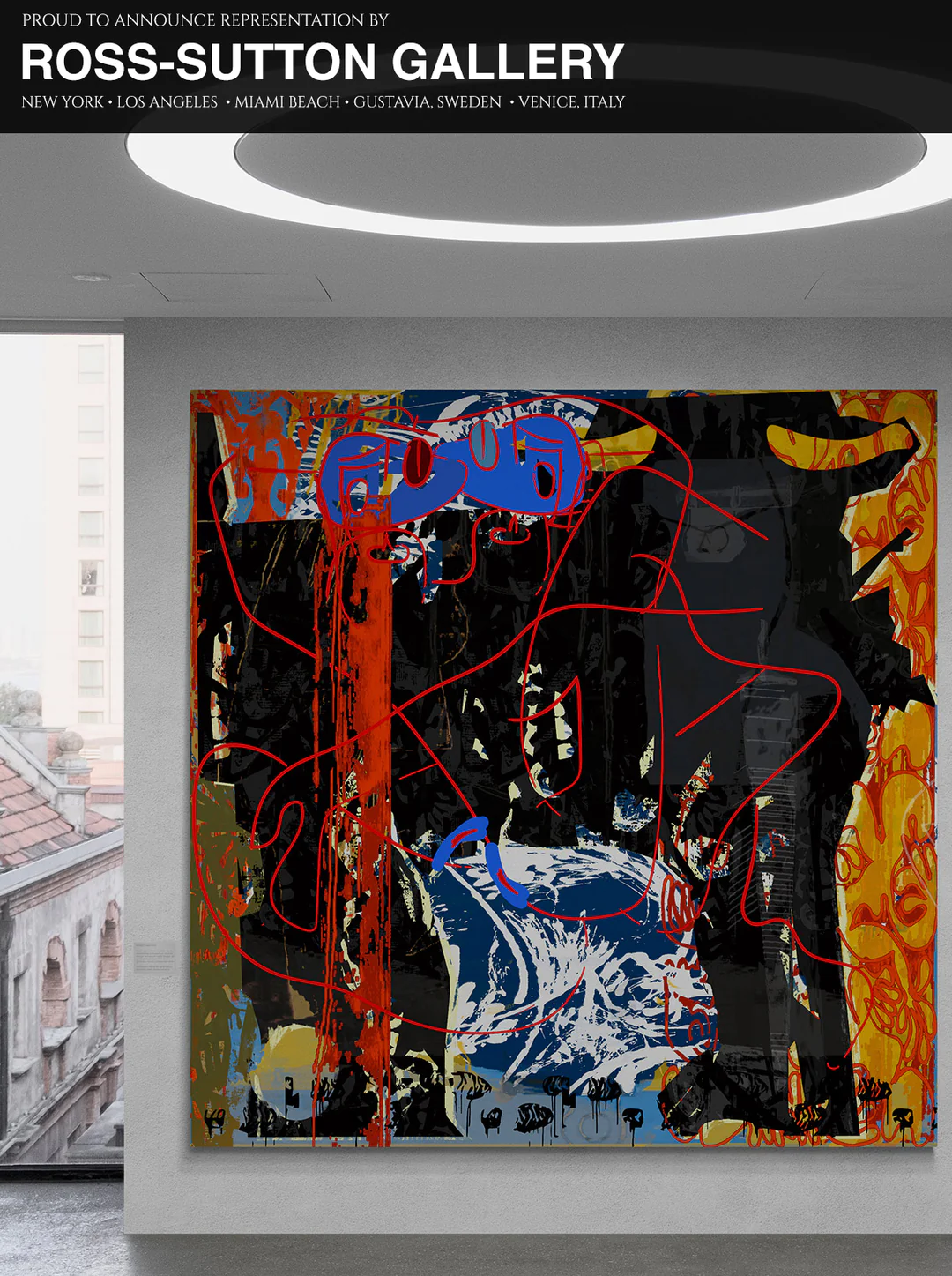 ROSS-SUTTON GALLERY
New York, New York Friday March 9, 2023
We are excited to announce that renowned artist Robert Santoré has joined the esteemed Ross-Sutton Gallery, which boasts locations in New York City, Miami, Los Angeles, and Venice, Italy. The gallery will represent Santoré's stunning artwork, including his captivating and thought-provoking sculptures and paintings.
Robert Santoré is a highly acclaimed artist with over 30 years of experience in the art world. His work is known for its unique blend of classical techniques and contemporary concepts, often exploring the human form's relationship to nature and the environment. His paintings feature intricate compositions that blur the lines between figurative and abstract art, using oil on canvas to create vibrant and dynamic pieces.
The Ross-Sutton Gallery is thrilled to represent Robert Santoré and showcase his incredible talent across its four locations. With a reputation for exhibiting some of the most exciting contemporary art worldwide, Santoré's addition to their roster will undoubtedly add to their impressive reputation. The gallery will hold exhibitions of Santoré's work across its locations, providing a unique opportunity for art lovers worldwide to experience Santoré's captivating sculptures and paintings. We look forward to seeing how this exciting partnership unfolds and welcome Robert Santoré to the Ross-Sutton Gallery family.
"OCEAN BLUE 00100011000011100000"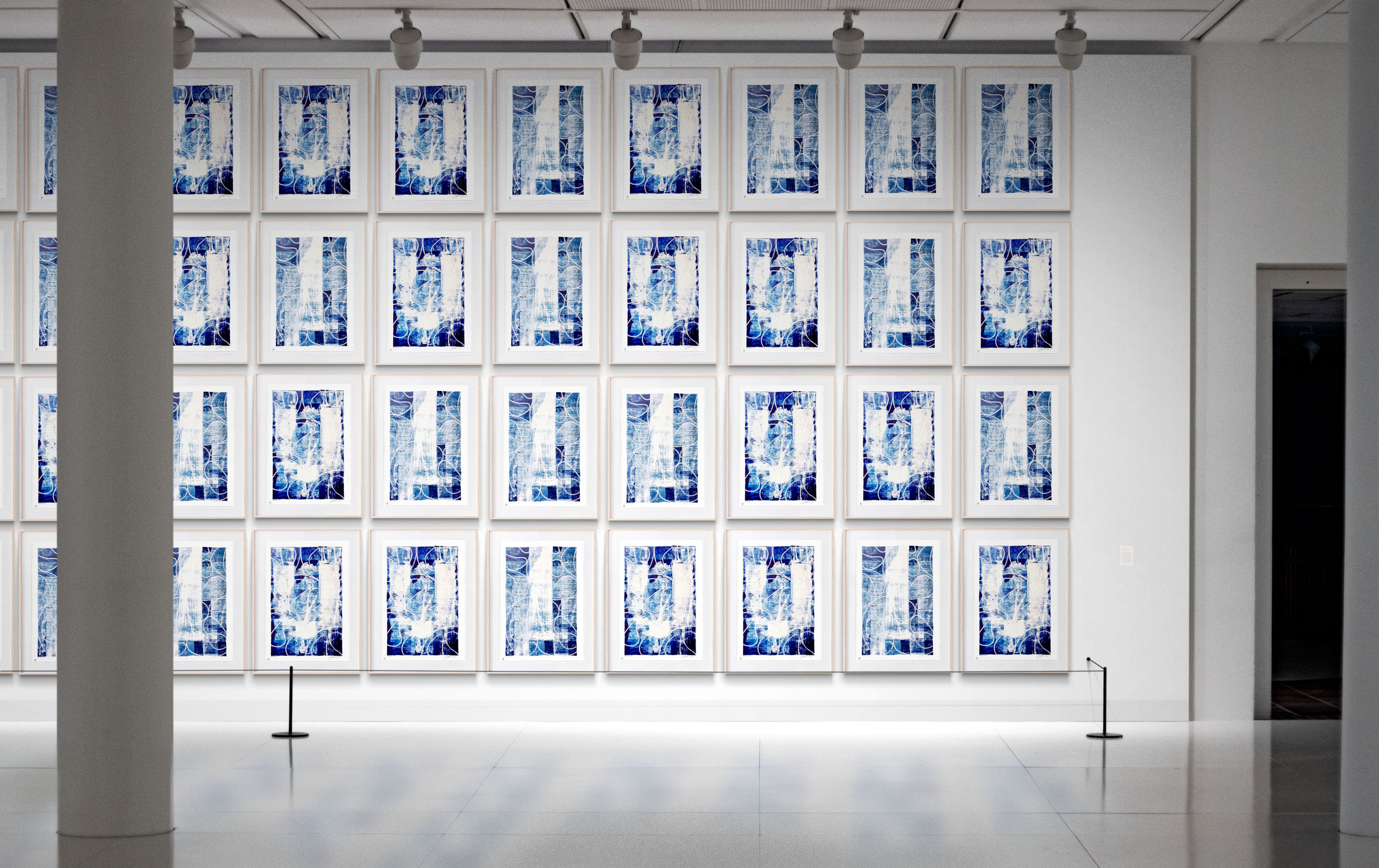 "OCEAN BLUE 00100011000011100000" Framed: 24" x 33" in (60.96cm x 83.82cm) Unframed: 30 x 39 in (76.2 x 99.06cm) Mono-prints on paper with hand drawn conte crayon jellyfish.
NFT via the Fine Art Ledger
Robert Santoré's "OCEAN BLUE 00100011000011100000" is a captivating contemporary art installation that pushes the boundaries of artistic expression while providing a thought-provoking commentary on the ever-evolving realm of AI and technology. Consisting of 128 works on paper.
Each measuring 24 x 33 inches (60.96 x 83.82cm), the series showcases Santoré's mastery of a printing technique he developed in the 1980s, a testament to his innovation and artistic ingenuity.
At first glance, the installation appears to be a mesmerizing sea of intricate patterns, with each artwork meticulously handcrafted. However, upon closer examination, viewers are drawn into a world of binary code, with only 0s and 1s adorning the paper's surface. The binary code, typically associated with computer languages, serves as a medium for Santoré to delve into the complex interplay between humanity and technology.
The narrative woven within the instlation is multi-layered, inviting contemplation on various aspects of our modern world. One interpretation lies in the contrast between the handmade nature of traditional artworks on paper and the automated processes of AI-compiled code.
By using human hands to create binary code, Santoré reflects on the coexistence of manual craftsmanship and advanced technology, suggesting that both have a place in contemporary society. Moreover, the repetition and patterns in the binary code serve as a metaphor for the repetitive nature of human behavior and the rapidly increasing presence of AI in various aspects of our lives.
Furthermore, the title "OCEAN BLUE" adds an additional dimension to the series, referencing the vast expanse of the ocean and the boundless potential of technology. The artist's choice of the binary code language
encourages viewers to reflect on the implications of humanity's reliance on AI and the fine line between harnessing its power for progress and the potential loss of human touch and creativity.
Santoré presents a visually striking and conceptually profound installation that challenges viewers to ponder the ever-evolving relationship between humans and technology, while also prompting contemplation on how we navigate the dynamic landscape of the digital age.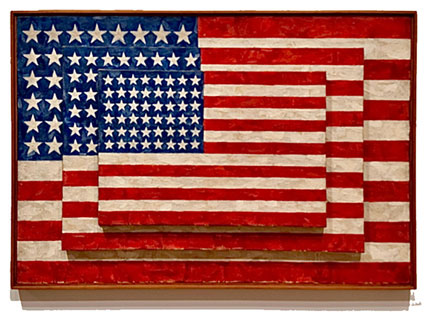 Japer Johns
"Three Flags"
Painted in 1958 at the age of 28
The Whitney Museum Of American Art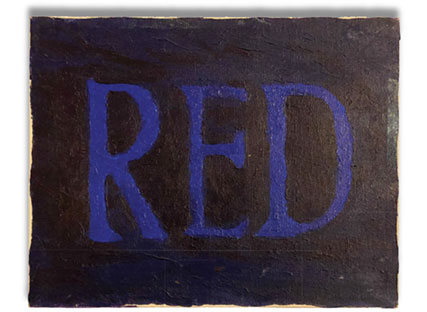 Robert Santoré
"Red"
Painted in 1967 at the age of 6
Happly Hanging in the Soho Loft
My family moved from the United Kingdom to Southern California. My father had been stationed at Bentwaters Air Force base in Great Brintain and was transferred to March Air Force base in Southern California.
We fully embraced the Southern California lifestyle and settled in Huntington Beach in 1967. Our family enjoyed all the typical activities of the time, from visiting Disneyland, Knott's Berry Farm, Universal Studios and Marine Land, to camping in Joshua Tree National park and the gold rush country in the High Sierra Mountains. We often had late- night beach bonfires with music playing in the background, providing the soundtrack to our lives.
I began surfing at the age of 7 and started skateboarding the following year. The open culture of Southern California, with its dynamic and colorful environment, provided me with a free-range childhood that was a stark contrast to the structured and scheduled life I had previously experienced as a military (air force brat) child.
A very early memory that sticks out is when my mother took me to the Ferus Gallery in Los Angeles. As we drove she told me the two of us were "going to see some very special things she wanted to show me and meet some cool people."
We saw works by Andy Warhol, Jasper Johns, Wallace Berman, Billy Al Bengston, Ed Moses, Robert Irwin, John Mason, Kenneth Price, Llyn Foulkes (I later studied under Llyn at Otis/Parson), Larry Bell (and Larry went to my 1st solo show at the Jerry Solomon Gallery), Ed Ruscha and others.
Later that day I found myself in a garage in the Hollywood hills watching Billy Al Bengston and Ed Ruscha painting surfboards while my mom sat on lawn chairs with others from the gallery opening & sipping wine, laughing and enjoying the sunset over the Los Angeles Basin.
On the way home I asked if we could stop and buy some art supplies. The next day we did:
"We saw works by Andy Warhol, Jasper Johns, Wallace Berman, Billy Al Bengston, Ed Moses, Robert Irwin, John Mason , Kenneth Price, Llyn Foulkes, Larry Bell, Ed Ruscha."
1 canvas
2 bushes
1 tube of Cobalt blue
1 tube of Prussian blue
1 tube of Mars black< I still own the painting and it hangs today in the Soho loft. The result was "RED"
11 x 14in (27.94 x 35.56cm) Oil on canvas

IMAGES : (1) Robert Santoré Texas studio w/ "FAST FOOD" & "FITS & STARTS" (2) Texas studio, (3) Texas studio, (5) Manhattan, (6) Texas, Studio, (7) Covid Chaos Red, "You Shot Your Lady Down", "The Bowery" (7) Mono-prints  (8, 9) COVID Riots (10) Soho Studio (11) Texas Studio, "You Shot Your Lady Down" (11) Soho Stdio, (12) Soho Studio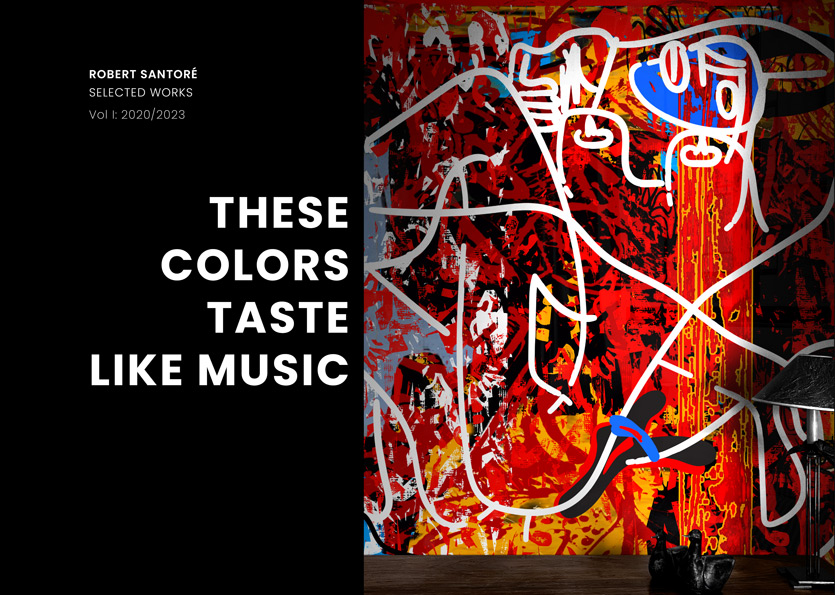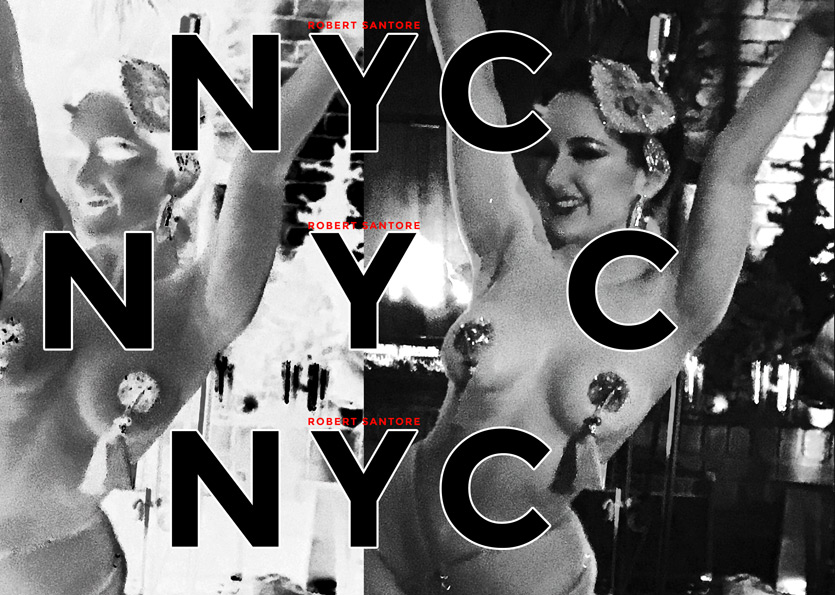 NYC NYC NYC dropping soon
Contact
In the message field jot down your question or when you would like to schedule a studio tour or any other topic you're interested in.
* We never share your information with any third-party.
STUDIO PRACTICE
TEXAS ART RANCH
Montgomery, Texas, 77363
MANHATTAN STUDIO
New York, NY 10002
+1 (936)276-8783
hello@robertsantore.com
ARTISTAI.AI
The end-to-end gallery, artists or creative professional multi-user, online asset management platform.
STAY IN TOUCH
2023 is shaping up to be exciting and busy year. 2024 and ahead are too! Sign up, (we never share your information) to receive details and invitations to what's coming next!